Klosterneuburg Monastery Library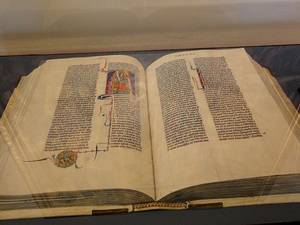 With its 300 000 books, more than 800 incunabula and over 1200 medieval manuscripts, the monastery library currently is Austria's largest scientific private library. One of the oldest illuminated manuscripts is the "Prayer book of Saint Leopold", a psalter from Lower Saxony written in the 11th century, as well as the "Leopold's Bible", dedicated to the monastery by Leopold on the occasion of its consecration in 1136.
The medieval manuscripts of Klosterneuburg Monastery are being maintained and scrutinized by the Austrian Academy of Sciences. The archive of the monastery houses a broad variety of historical material from the 11th century up until today, mostly economical and administrative documents as well as public records and cadastral registers.
Source:
http://www.stift-klosterneuburg.at/kultur/geschichte-kunst/stiftsbibliothek/

Image source:http://commons.wikimedia.org/wiki/File%3A17Klosterneuburg.JPG